March 21, 2012



"An Artistic Discovery"
Congressional Art Competition for High School Students


"An Artistic Discovery" is the annual nationwide Congressional High School Art Competition, sponsored by the Congressional Institute and coordinated by Members of the United States House of Representatives in their districts. Each year, Members of Congress conduct local art competitions in their districts. The winning piece of art from each district becomes part of an impressive display on national exhibition in the United States Capitol.

"An Artistic Discovery" provides Members of Congress and the public the opportunity to encourage and recognize the rich artistic talents of young Americans at a time when local cultural organizations and arts-in-education programs are being curtailed. I am sure that you will be quite impressed with the artwork that becomes part of the exhibit in the Capitol. You can view the most recent winners here.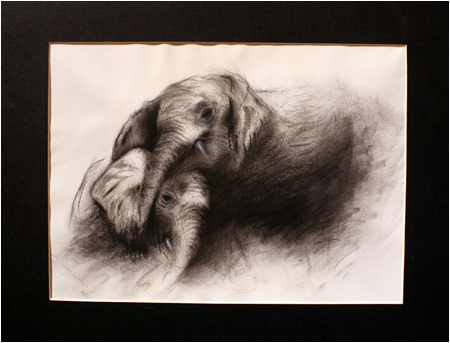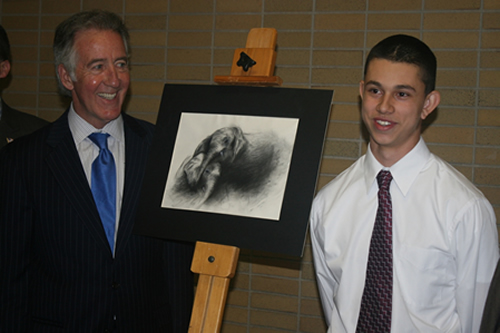 I was pleased to meet with Brandon Avery, 2011 Congressional Art Competition Winner for the Second District of Massachusetts. Brandon was a Senior at Agawam High School in Agawam, Massachusetts when he entered the competition. His entry, entitled Love, was done in Charcoal. Amanda Knodler is Brandon's Art Instructor.


2012 Congressional Art Competition Information
"An Artistic Discovery"
GENERAL GUIDELINES
The Competition is open to High School students only. Exceptions may be made for schools that have 7th through 12th grades on one campus.


Each School may submit UNLIMITED entries – Click here for a link to the 2012 Entry Form.



Each entry must have an entry form attached to the back of the artwork


You may copy the entry/release form as needed


Each entry/release form must be signed by student's parent or legal guardian and by the student


Each student must verify that his or her residence is in the Second Congressional District
Specifications
Artwork must be two dimensional, no larger than 28" x 28" x 4" (including matting or framing)


Artwork must weigh less than 15 lbs.


Artwork should suitable for display (matted is preferred, winning entry will be framed for Washington display)


Artwork must be original in concept, design and execution – and must comply with U.S. Copyright laws.


Any entry that has been copied from an existing photo, painting, graphic, advertisement, or any work produced by another person will NOT be accepted.


Artwork must be submitted in the original medium. (no scanned reproductions accepted)


Artwork must be within the following categories



Paintings: oils, watercolors, acrylics, etc.


Drawings: pastels, colored pencil, pencil, charcoal, ink, markers


Collage: must be two dimensional


Prints: lithographs, silkscreen, block prints


Mixed Media: use of more than two mediums such as pencil, ink, watercolor, etc.


Computer-generated art


Photography
Deadlines
Entries must be received in the Congressman Neal's Office by the Thursday, before April vacation.


Artwork must be delivered to either the Springfield District Office (300 State Street, Suite 200, Springfield, MA) or the Milford District Office (2 Congress Street) prior to that date, or…


We will pick up your entries! Your artwork must be ready and in the School office on the Thursday before April vacation (in the morning).



Please contact Jeanne Ahern or Virginia Purcell ASAP to let us know if you need a pick up.


If you are home schooled or attend outside the district, please call or email us and we will make arrangements.


Sincerely,



Richard Neal
U.S. Congressman
Washington Office: 2208 Rayburn House Office Building • Washington, DC 20515 (202) 225-5601
Milford Office: 2 Congress Street • Milford, MA 01757 (508) 634-8198
Springfield Office: 300 State Street, Suite 200 • Springfield, MA 01105 (413) 785-0325