March 1, 2013

I am pleased to announce that submissions for the 2013 Congressional Art Competition are now being accepted. Every year the Congressional Art Competition celebrates the artistic spirit of high-school students across the nation.

High School students in every district will have an opportunity to submit their artwork to their representative's office. A panel of local artists from each district selects the winning pieces, which are then displayed in the Capitol Building. Since the competition began in 1982, over 650,000 high school students have submitted their original artwork.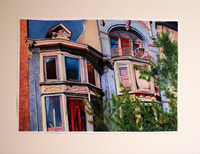 2012 Winner: "A Window of Opportunity"
by Taylor Gordenstein

Submissions must meet specific guidelines in order to qualify for review. Artwork must come from high-school students, and is not to exceed 28"x28"x4" dimensions. Artists can use a variety of different mediums including paintings, drawings, collages, prints, mixed media, computer-generated art and photography.


Submissions must be two-dimensional.
Submissions must weigh less than 15 lbs.
Submissions must be original pieces in conception and design, and may not violate U.S. copyright law.
Please visit the U.S House of Representatives website to view previous winning pieces here.
For more information on the Congressional Art Competition including submission deadlines, accepted mediums and student release forms please visit my website.

Sincerely,



Richard Neal
U.S. Congressman
Washington Office: 2208 Rayburn House Office Building • Washington, DC 20515 (202) 225-5601
Pittsfield Office: 78 Center Street • Pittsfield, MA 01201 (413) 442-0946
Springfield Office: 300 State Street, Suite 200 • Springfield, MA 01105 (413) 785-0325