Can't see the pictures? Select "Always display images" or view this message in your browser.



Subscribers to the Rangel Report are the first to receive exclusive information on Congressman Rangel's
latest activities in Congress. Please share this email with a friend.

Healthcare Law Turns Two

March 23, 2012

Dear Friends,

Today marks the two year anniversary of President Barack Obama signing the Affordable Care Act into law. I was proud to sponsor the healthcare bill in the House and had the honor of standing with my Democratic Colleagues behind the President on that day. Over the last two years the Affordable Care Act has improved the lives of Americans both young and old. Unfortunately, this week Republicans released the Ryan Budget which attempts to repeal the healthcare law. Rather than trying to take coverage away I urge Republicans to abandon their attempts to repeal healthcare and join Democrats to help expand access to affordable and quality healthcare to all Americans. Republicans call it "Obamacare," and Democrats call it the Affordable Care Act. Whatever you call it, healthcare works.



NEWS FROM THE WEEK

INTERACT WITH ME
---
Small Business/Entrepreneurs Event:
"A Day With SBA & MBDA"

When: 9 a.m. - 1 p.m. on April 10, 2012 (Tuesday)

Where: State Office Building - 8th Floor, 163 W 125th Street, New York, NY 10027

CLICK TO REGISTER NOW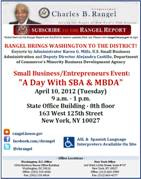 Click above for more info
---
Government Career Info Session: "Finding & Applying for Federal Jobs"

When: 10 a.m. - 12 p.m. on April 12, 2012 (Thursday)

Where: Aaron Davis Hall (W. 135th St. and Convent Ave) The City College of New York, NY 10031

CLICK TO REGISTER NOW


Click above for more info
---
Grants, Scholarships and Gov. Contracts

Understanding & Promoting Health Literacy
National Institutes of Health
Award Ceiling: $200,000
Deadline: May 7, 2013

NYCHA/CUNY Resident Scholarship
New York City Housing Authority
Award Ceiling: $1,000
Deadline: April 30, 2012

Spanish Teacher
Department of the Treasury
Deadline: April 11, 2012

Click HERE for more!


---
Guest Blog: Fighting Pediatric Acquired Brain Injury

written by Patrick Donohue, the Founder of the Sarah Jane Brain Foundationůread here

Click above to watch Rep. Rangel speak on the pending budget
Rangel Dismisses Ryan Budget, Calls For A Fair Budget Approach
Republicans have once again chosen to provide tax cuts for the wealthy instead of focusing on job creation and ensuring healthcare for working Americans. They have sought to support Big Oil subsidies and special interest groups over seniors and our most vulnerable. ůmore



Click above to read the STOCK Act

Rangel Lauds Passage Of The STOCK Act
"I applaud the swift action taken today by the Senate in procedurally voting to pass the STOCK Act, which previously passed in the House by a vote of 417 to 2. This critical legislation brings an end to insider trading by Members of Congress and executive branch employees"ůmore



Click above to read Rep. Rangel's bill
Rangel Introduces Bill To Extend Relief To Americans Losing Their Homes
"The bill extends for two years the tax provision that prevents struggling homeowners from a federal income tax liability as a result of mortgage debt forgiveness from a financial institution"...more




Rangel On The Trayvon Martin Investigation
"I am greatly saddened by the death of Trayvon Martin that has shaken the nation and prompted many of my Colleagues in Congress to demand justice"ůmore


Rangel On The 2-Year Anniversary Of Affordable Care Act: Healthcare Works
"I will continue to work tirelessly to defend and expand access to affordable and quality healthcare for my constituents and all Americans"ůmore



Watch Rep. Rangel's new video:


Click above to watch the video


The Affordable Care Act
Turns Two

#healthcareworks

Produced by the Office of Congressman Charles B. Rangel
Best regards,



Charles B. Rangel

Unsubscribe
- Office Locations -
Washington, D.C. Office
2354 Rayburn House Office Building
Washington, DC 20515
Office: (202) 225-4365
Fax: (202) 225-0816


New York Office
163 West 125th Street, Suite #737
New York, NY 10027
Office: (212) 663-3900
Fax: (212) 663-4277