May 6, 2013

Dear Friends,

As Congress returns to Washington this week, I wanted to share with you what I have been up to in the First District. Click on the links below to find out more:
In Glastonbury I hosted a community forum on Social Security and Medicare (pictured below). The importance of these topics was clear, with nearly 100 people attending to discuss how Americans pay into these programs and to hear how Congressional action could impact them.
In Hartford I joined Connecticut Humanities to kick-off the opening of the CT Center for the Book (pictured below). Whether it's the CT Center for the Book or the International Summit of the Book, it is crucial that we support our local libraries and promote the knowledge that comes from the written word.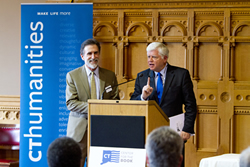 As always, feel free to visit my website at www.larson.house.gov for more information.

Sincerely,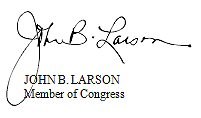 Follow Me On:




---

Click here to unsubscribe
Washington Office
1501 Longworth House Office Building
Washington, DC 20515
Phone: (202) 225-2265

Hartford District Office
221 Main Street, 2nd Floor
Hartford, CT 06106
Phone: 860-278-8888
This mailing was prepared, published, and mailed at taxpayer expense.